AVR Dragon Solutions
AVR-DRAGON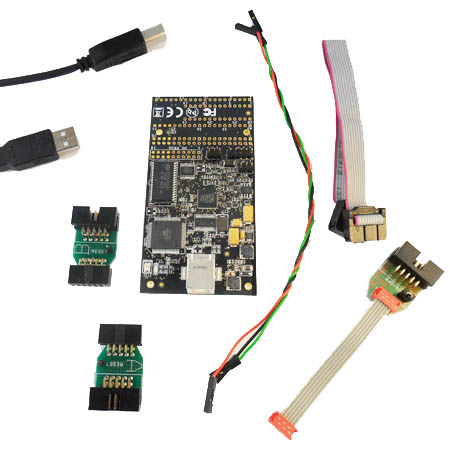 Runs from AVRStudio and includes all cables for ISP, DebugWire and JTAG
AVR Training Kit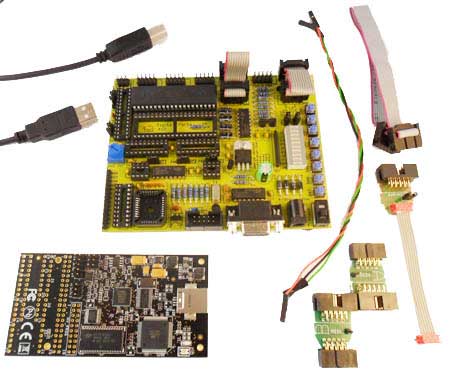 AVR Dragon with STK200 AVR board, plus training, sample code and books
ATmega128 Training Kit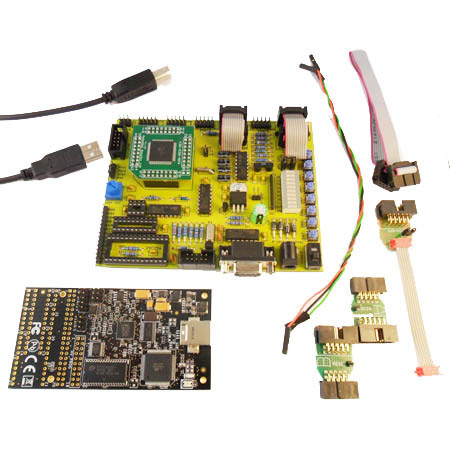 AVR Dragon with STK300 64-pin AVR board, plus training, sample code and books
The Kanda AVR Dragon includes all the ISP, DebugWire, power, USB and JTAG cables needed to make it easy to setup and use, unlike the standard version. We have also included adapters to connect JTAG to STK200 and STK500 boards and compehensive instructions.
AVR Dragon runs from AVRStudio 4, AVRStudio 5 and AVRStudio 6
Supports ISP, JTAG and DebugWire (for debugging smaller devices)
AVRStudio software and WinAVR C Compiler included
Power wires, JTAG cable, 10 and 6 Way ISP and DebugWire connections
JTAG Adapters
Instructions
Complete AVR Training Kits
Kanda also supply STK200 Dragon Kit and the STK300 Dragon kit which are ideal for beginners to learn how to program the AVR microcontroller. The kits include
AVR Dragon emulator for programming and debugging your code
STK200 AVR board for 8, 20, 28 or 40 pin AVRs or STK300 64-pin AVR board
AVR Studio and WinAVR C compiler to develop your code
Book on CD that covers all the basics before moving on to advanced topics
Sample code in C and Assembly language
Guides covering software and hardware
AVR microcontroller datasheets
Complete board schematics
Both the STK200 and STK300 kits are designed to teach you all you need to know to start developing your own projects. They give you a complete understanding of the AVR microcontroller and how to program it to do want you want.

This approach allows you develop your own circuits without relying on expensive modules like Basic Stamp or Arduino shields.
STK200 and STK300 AVR Boards
AVR development is much easier if you have known hardware and sample code, so our kits can include the STK200 board or STK300 board with sockets and peripherals such as LEDs, switches, ADC, EEPROM, LCD and keypad interfaces and serial port. The two boards are
| | |
| --- | --- |
| STK200 Board | STK300 Board |
| | |
| Board for 8, 20, 28 and 40-pin AVR microcontrollers | Board for 64-pin mounted AVR microcontrollers |
Unless you have a specific project in mind that needs extra memory or lots of pins, the STK200 is the right choice for most people to start with.