Selected Category and Product:


Programmers-Burners » Universal Programmers » Xeltek Programmers » Xeltek Legacy » SP9000U
Secure Payment by

Xeltek SuperPro 9000U Gang Programmer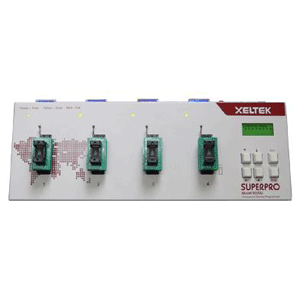 Xeltek SuperPro 9000U Gang Programmer
4 48-pin programming sockets, with PC or standalone mode, plus a range of adapters to support almost 40,000 devices - the ideal production tool....
Shipping to United States
Economy: Not Available
Express: $76.00
Order Code
SP9000U
Price: $3,695.00
Discontinued
Replacement Product
Related Products
Xeltek SuperPro 9000U Gang Programmer
DISCONTINUED
Replaced by
SP7100 Universal Gang Programmer
4 48-pin programming sockets, with PC or standalone mode, plus a range of adapters to support almost 40,000 devices - the ideal production tool.
---
SuperPro 9000U Features
4each high speed 48pin DIP programming sockets
Supports almost 40,000 devices and growing, more than any gang programmer in the market.

430+ socket adapters including 150+ FBGA package types supported
Operates in both PC and stand-alone mode without a PC attached for volume production
Asynchronous fast programming. Each module is independent from one another.
Programming starts automatically when a chip is inserted
High speed programming
ISP (In-System Programmable) devices supported
CE and ROHS Compliant
No experienced operator with the knowledge of PC or Windows necessary
Four 256MB compact flash cards included
---
SuperPro 9000U Detailed Features
CE approved.
Ultra high speed programming in 4 sets of 48 pin DIP sockets each, 32 Mb programming in 8 sec and verify in 5 sec, 13 sec total.
Supports almost 40,000 devices, including over 5,000 Flash devices, in all packages types including DIP, SOIC, TSOP, QFP, and FBGA.
Programs the latest low voltage devices.
Hundreds of socket adapters available including the latest FBGA types.
4 independent programming modules with its own MCU, memory, and pin-drivers for fast and reliable operation. (Most gang programmers share memory, CPU, and I/O resources)
Stand-alone or PC mode operation selectable. In stand-alone mode operation, PC connection is not needed. Instead, 6 key keyboard and 4 line LCD display are used.
USB 1.1 interface (2.0 version in plan).
Modular construction of hardware allows for continuing operation when a part of the circuit becomes inoperable. It also makes service quick and easy.
Clustering programming for multiple units via USB hub.
User expandable Compact Flash (CF) card slot for each programming module to store user project file. Large flash memory chips can be supported by use of larger CF card. 4each 64MB cards included as a standard
1 project stored on each stored. A project file includes device specific and programming information including program data, device-programming algorithm, programming parameters, etc.
Interface to Labview (option).
Graphic user interface allows for easy monitoring of high volume production operation.
Each chip may be programmed with different data such as configuration and calibration information. This feature is not normally available in standard gang programmers. This is an important and necessary feature to program today's complicated ICs.
Availability of DLL for OEM users who need to integrate the programmer onto their own equipment. (License fee required)
Availability of serial number programming. (License fee required)
Availability of Automatic Device Updater (ADU) service for yearly license fee of $29.95. With this service, new devices are updated automatically at the user present preset interval (daily, weekly, monthly, or manual) via internet.
Operator error is minimized by use of a project file, which is normally created and prooved by engineering. The project file is copied onto a CF card and given to the operator.
Data security is preserved by removing the CF cards for safekeeping when not in use.
Hands-free operation, Asynchronous and concurrent operation allows a chip to begin programming immediately upon insertion of a chip. The operator merely removes the finished chip and inserts a new chip. Operator training is also minimized.
High efficiency for operator and the programmer. Operator is busy removing and inserting chips, so both the operator and programmer is running continuously at maximum efficiency. In the standard gang programmer operation, the operator is idling while chips are being programmed, and the programmer is idling while chips are being removed and new chips inserted.
High throughput for volume production Superpro 9000 is 2-5 times faster than the comparable models in the market. Combining it with the non-stop asynchronous operation generally yields more than a typical 8 gang programmer provides.
Dual range external power adapter (110V - 240V AC input)
Dimension (approximate) 50cm(width), 18cm(depth), 6cm(height).
Free program and device update downloadable on the web.
Free customer device update service for 1 year.
---
Specifications
Supported devices: EPROM, EEPROM, Serial EPROM, Paged EPROM, Serial PROM, FLASH EPROM( NOR and NAND), NONVRAM, SPLD, CPLD, EPLD, Firmware HUB, MCU, Microcontroller, SRAM and Standard logical device. With voltages down to 1.5V
Full device support list

Packages supported: DIP, SDIP, PLCC, JLCC, SOIC, QFP, TQFP, PQFP, VQFP, TSOP, TSOPII, SOP, PSOP, TSSOP, SON, EBGA, FBGA, VFBGA, μBGA, CSP, SCSP etc.
PC interface: USB
Stand-alone Interface: 16 Character by 4 line back-lighted LCD, 6 standard hard keys, 4 Compact Flash cards (removable, 64MB as standard which can support up to 256Mb devices, necessary for both PC mode and stand-alone mode)
Standard Package includes: Programmer main unit, external power supply, 4 CF cards, USB cable, User's Guide, software CD.
Optional accessories: Package adapters
---
Contents
SuperPro 9000U Programmer
Four 256MB Compact Flash Cards
AC adapter
Software CD
USB Cable
User Manual
---
Hardware and Electrical Specification
Power supply : Input 100V-240VAC
Output : DC 24V/5Amp
Main unit dimension: 540(L) x 195(W) x 58(H) mm
Packing Box dimension: 608(L) x 360(W) x 150(H) mm
Shipping Weight : 19 Lbs (8.5 kg)
Ordering Information
Ordering Information
Order Code: SP9000U
Price: $3,695.00
Express shipping to United States :
$76.00