Selected Category and Product:


Programmers-Burners » Universal Programmers » Xeltek Programmers » Xeltek Legacy » SP501S-4N
Secure Payment by

Xeltek SuperPro 501S N4 Cluster Gang Programmer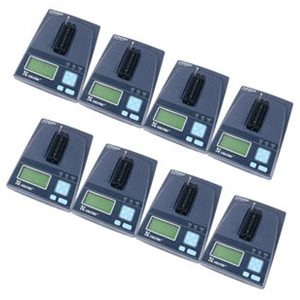 Xeltek SuperPro 501S N4 Cluster Gang Programmer
The SuperPro 501S N4 Cluster is composed of x4 units of our newest and fastest SuperPro 501S programmer complete with 4 512KB CF cards for standalone operation. As a SuperPro...
Shipping to United States
Economy: Not Available
Express: $52.00
Order Code
SP501S-4N
Price: $3,980.00
Discontinued
Replacement Product
Related Products
Xeltek SuperPro 501S N4 Cluster Gang Programmer
The
SuperPro 501S N4 Cluster
is composed of 4 units of our newest and fastest SuperPro 501S programmer complete with 4 512KB CF cards for standalone operation. As a SuperPro 501S N*Cluster owner, users get two programmers packaged into one! SuperPro 501S N*Cluster owners, have the benefit of using it as:
A universal programmer for engineering application.
Secondly, as a manufacturing programmer for volume production.
For production operation, Superpro 501S N*Cluster operates in stand-alone (without a PC attached) mode. Each unit supports most manufacturers of EPROM, EEPROM and Flash memory, PIC, AVR and other popular microcontrollers and PLDs. By operating multiple programmers simultaneously you can use them in high volume production environment.
---
Xeltek SP501S-4N Details
Programs devices with Vcc as low as 1.2V.
Ultra fast programming speed: Programs and verifies 64 Mb NOR FLASH memory in 11.3 seconds and 43.4 sec for 64 Mb Eeprom (QB25F640S33B60).
Built with 48 universal pin-drivers for support of today's most complex devices. Universal and device independent socket adapters are available for various packages.
The programmer operates in either PC hosted mode or stand-alone mode.

Under PC hosted mode, a PC controls the programmer via a high-speed USB2.0 connection to program a chip.
Under stand-alone mode, the user controls the programmer via 20-characters, 4-line LCD display with 6-KEY keypad. A CF (compact flash) card stores the project files. In stand-alone mode, the user can operate multiple units to construct a concurrent multiprogramming system.

ISP/ICP programming capability through optional ISP/ICP adapter.

Only IC manufacturer approved programming algorithms provide high reliability. Vcc verification at (+5%~-5%) and (10%~-10%) enhances programming reliability.
Provides over-current and over-voltage protection for safety of the chip and programmer hardware.
Compatible with Windows XP, Vista, 7, 8 - x32 and x64
Includes the following advanced and powerful software functions:

Chip operation starts immediately upon proper chip insertion in Production Mode.
The Project function simplifies processes such as device selection, file loading, device configuration setting, program option, and batch file setting into one step.
Password protection provides security for project files and production volume control.
The Batch command combines device operations like program, verify, security into a single command at any sequence.
Serial number generators are available as standard or customer-specific functions.
A Log file provides quality tracking.
---
Xeltek SP501S-4N Contents
Four SuperPro 501S Programmers with DIP48 Adapters
Four 512 MB Compact Flash Cards
AC adapter
Software CD
USB2.0 Cable
User's Manual
---
Specifications
Devices Supported: EPROM, Paged EPROM, Parallel and Serial EEPROM, FPGA Configuration PROM, FLASH memory (NOR & NAND), BPROM, NVRAM, SPLD, CPLD, EPLD, Firmware HUB, Microcontroller, MCU, Standard Logic
Package: DIP, SDIP, PLCC, JLCC, SOIC, QFP, TQFP, PQFP, VQFP, TSOP, SOP, TSOPII, PSOP, TSSOP, SON, EBGA, FBGA, VFBGA, uBGA, CSP, SCSP,…
PC interface: USB2.0 (High speed)
Stand-alone memory: Compact FLASH Card
Power supply: AC Adapter: Input AC 90V- 250V; Output: 12V/2A
Main unit: Dimensions 178(L) * 130(W) * 40(h) mm;
Package: Dimensions 320(L) * 300(W) * 85(H) mm; Weight 18 Lbs (8.2 Kg )
---
Quick Links

Full Device Support List
in new window.
SP50S-4N Programmer Software
Different Xeltek Gang Programmer Solutions
---
Ordering Information
Ordering Information
Order Code: SP501S-4N
Price: $3,980.00
Express shipping to United States :
$52.00