Selected Category and Product:

Starter Kits » FPGA Starter kits » FPGA-PACKAGE-A
Secure Payment by

FPGA Accessories Package A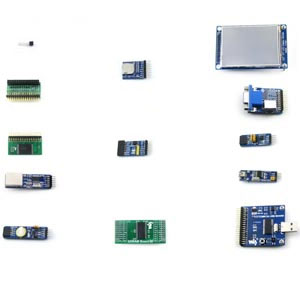 Accessory pack for FPGA Kit
SD RAM, Micro SD, Nor Flash etc
Touch LCD
Ethernet, USB, UART
Keypad, VGA/PS2 etc
Shipping to United States
Recorded Airmail: $9.75
Express: $19.00
Order Code
FPGA-PACKAGE-A
Price: $63.00
Short Lead Time
Related Products
Accessory Package A for Altera Cylone 1V EP4C FPGA Kit
These accessories all plug into the FPGA main board as a modular system. Schematics and sample code (VHDL, Verilog, NIOS II C) are all available for use with free Quartus Software.
Package Contents
3.2inch 320x240 Touch LCD x 1
3.2inch LCD Adapter (B) x 1
VGA PS2 Board x 1
PL2303 USB UART Board (mini) x 1
NorFlash Board (B) x 1
SDRAM Board (B) x 1
Micro SD Storage Board x 1
AT45DBXX DataFlash Board x 1
FM24CLXX FRAM Board x 1
CY7C68013A USB Board (mini) x 1
ENC28J60 Ethernet Board x 1
PCF8563 RTC Board x 1
DS18B20 (temperature sensor) x 1
USB type A plug to mini-B plug cable x 1

Resources
The CD that comes with the main board includes the following.
Related Software (Quartus II, NIOS II etc.)
Demo Code (Verilog, VHDL and NIOS II C)
Schematic (PDF)
FPGA Development Documentations (Datasheets etc.)
Ordering Information
| | | |
| --- | --- | --- |
| Ordering Information | Order Code: FPGA-PACKAGE-A | Price: $63.00 |
| Shipping to United States: | Recorded airmail - $9.75 | Express price - $19.00 |