Selected Category and Product:


Starter Kits » FPGA Starter kits » FPGA-EP4C-KIT
Secure Payment by

Altera EP4C NIOS II Kit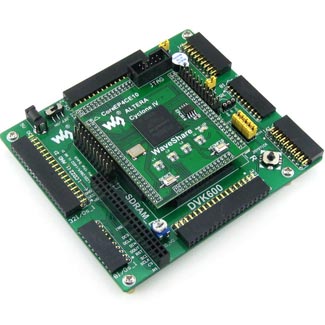 Motherboard
EP4CE10 Core Board
Sample Code (VHDL, Verilog and NIOs II)
Accessory packs available
Programmer and Debugger available
Free Quartus and Nios II Software
Shipping to United States
Recorded Airmail: $15.00
Fedex Express: $25.00
Order Code
FPGA-EP4C-KIT
Price: $299.00
Long Lead Time
Related Products
Altera EP4C FPGA NIOS II evaluation development board
Simple way to get started with Altera FPGA. This kit features a main board, a core board mounting an Altera EP4CE10 FPGA and expansion ports for a range of peripherals. Accessory package A and B have a wide range of suitable plug-in accessories, all with sample code etc.
Kit does not include a programmer and debugger, which is available separately - see product accessories below.
Simple Expansion
The main board has connections for your own peripherals or a wide range of accessory boards. These just plug-in to the main board making this a truly modular system. Demo (Verilog | VHDL | NIOS) Code is available for all peripherals, making ideal for Nios II development.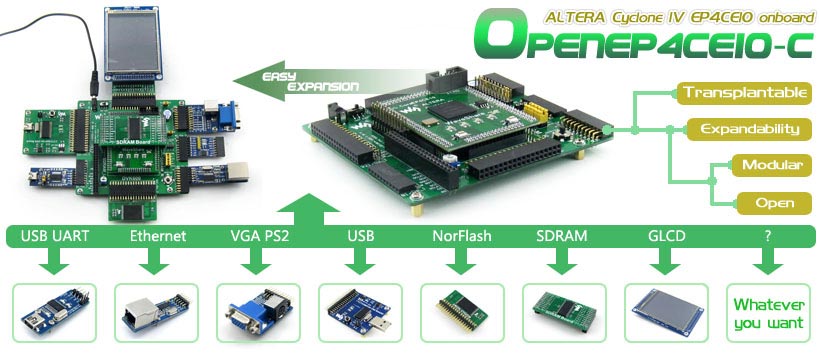 Motherboard Details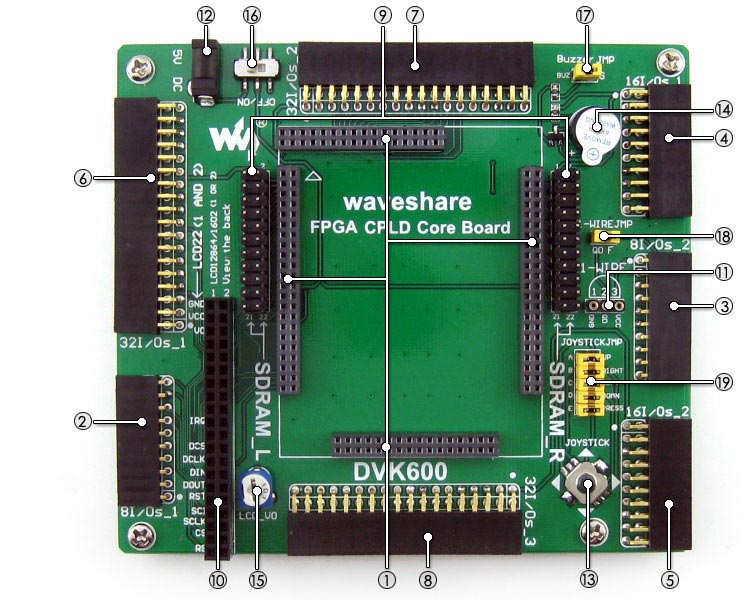 FPGA CPLD core board connector: for easily connecting core boards which integrate an FPGA CPLD chip onboard
8I/Os_1 interface, for connecting accessory boards/modules
8I/Os_2 interface, for connecting accessory boards/modules
16I/Os_1 interface, for connecting accessory boards/modules
16I/Os_2 interface, for connecting accessory boards/modules
32I/Os_1 interface, for connecting accessory boards/modules
32I/Os_2 interface, for connecting accessory boards/modules
32I/Os_3 interface, for connecting accessory boards/modules
All these I/O interfaces above:
capable of being simulated as USART, I2C, SPI, PS/2, etc.
capable of driving devices such as FRAM, FLASH, USB, Ethernet, etc.
SDRAM interface
for connecting SDRAM accessory board
also works as FPGA CPLD pins expansion connectors
LCD interface, for connecting LCD22, LCD12864, LCD1602
ONE-WIRE interface: easily connects to ONE-WIRE devices (TO-92 package), such as temperature sensor (DS18B20), electronic registration number (DS2401), etc.
5V DC connector - 2.1mm barrel
Joystick: five positions
Buzzer
Potentiometer: for LCD22 backlight adjustment, or LCD12864, LCD1602 contrast adjustment
Power switch
Buzzer jumper
ONE-WIRE jumper
Joystick jumper
For jumpers 17-19:
short the jumper to connect to I/Os used in example code
open the jumper to connect to other custom pins via jumper wires
Plug in CoreEP4CE10 Board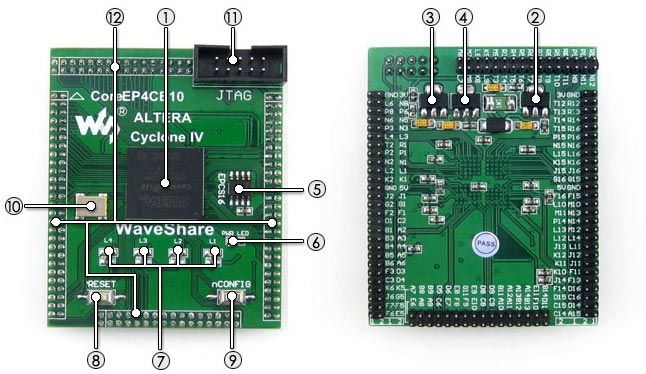 EP4CE10F17C8N:the ALTERA Cyclone IV FPGA device which features:

Operating Frequency: 50MHz
Operating Voltage: 1.15V~3.465V
Package: BGA256
I/Os: 164
LEs: 10K
RAM: 414kb
PLLs: 2
Debugging/Programming: supports JTAG

AMS1117-3.3 (on bottom side), 3.3V voltage regulator
AMS1117-2.5 (on bottom side), 2.5V voltage regulator
AMS1117-1.2 (on bottom side), 1.2V voltage regulator
EPCS16, onboard serial FLASH memory, for storing code
Power indicator
LEDs
Reset button
nCONFIG button: for re-configuring the FPGA chip, the equivalent of power reseting
50M active crystal
JTAG interface: for debugging/programming
FPGA pins expander, VCC, GND and all the I/O ports are accessible on expansion connectors for further expansion
Kit Contents
OpenEP4CE10-C development board x 1
4-pin wire x 2
2-pin wire x 2
USB power cable x 1

The software page for this product contains
Related Software (Quartus II, NIOS II etc.)
Demo Code (Verilog, VHDL and NIOS II C)
Schematic (PDF)
FPGA Development Documentations (Datasheets etc.)
Waveshare Development Page
Accessory Packs
A large number of accessories are available. Each accessory has sample code for Verilog, VHDL and Nios II C code. Quartus and Nios development software is available free of charge.
Ordering Information
| | | |
| --- | --- | --- |
| Ordering Information | Order Code: FPGA-EP4C-KIT | Price: $299.00 |
| Shipping to United States: | Recorded airmail - $15.00 | Fedex Express - $25.00 |