Selected Category and Product:


PC Interfaces » Terminal Servers » Multi Port Terminal Servers » STS400
Secure Payment by

4 Port Terminal Device Server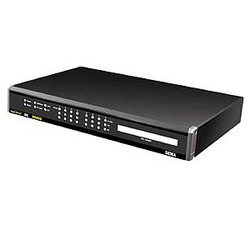 Connects 4 RS232 serial devices to 10/100Base-T network.
Supports PC cards such as ATA memory, modem and wired/wireless LAN card
Configuration via Web, Telnet/SSH or serial port
Supports Dynamic DNS protocol for DSL connection to broadband Internet
Easy-To-Use customization support: User space, Library and Scripts (network/port access)
Powerful security support, SSL/TLS and data encryption
Shipping to United States
Recorded Airmail: $22.00
Fedex Express: $31.00
Order Code
STS400
Price: $595.00
Discontinued
STS 4-Port Terminal Server
These 4-port smart terminal servers are ideal for connecting serial ports to Ethernet or DSL phones for various application areas such as Retail/POS, Industrial Automation and facility management including logging. They are easy to setup and have powerful security, Ethernet modem, Comm Port redirector and much more.
---
Main Features
Connects legacy serial devices to 10/100Base-T Ethernet network
Includes Virtual Comm Port redirector - see below
Supports RS232 based serial devices, up to 230Kbps speed
Powerful security support, ID/password, IP Filtering, SSH,SSL Data Encryption
An example program for Windows and Linux can be downloaded here.
Supports powerful Ethernet modem function Dynamic DNS and PPPoE protocol for DSL connection to broadband Internet
Configuration via Web, Telnet or serial port
Management software for configuration and administration included
Free Unix TTY redirector software version
---
Extra Features
TCP/UDP Multicasting
Serial device data logging (Port Logging)
PC Card Support
Serial Device Data Encryption
Serial device data event handling (port Event Handling)
---
View User manual (2.5MB)
---
Contents
4-port Smart Terminal Server
Quick start guide
CD-ROM with Management software and Comm Port Redirector
Cable kit
External 110V or 230V power supply or power cord
Mounting kit
---
Comm Port Redirector
The product comes with a full version of Tactical Serial/IP Redirector software. This creates virtual COM ports so that your applications can immediately use a networked device/terminal server's serial ports as if they were local serial ports. This significantly reduces development time.


Documentation
This opens in a new window.
Ordering Information
| | | |
| --- | --- | --- |
| Ordering Information | Order Code: STS400 | Price: $595.00 |
| Shipping to United States: | Recorded airmail - $22.00 | Fedex Express - $31.00 |