Selected Category and Product:

PC Interfaces » Terminal Servers » Multi Port Terminal Servers » PS810
Secure Payment by

8-Port Serial to Ethernet Converter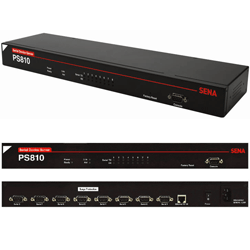 Connect 8 RS-232/422/485 serial devices to 10/100Base-T Ethernet network
Powerful security support, SSL or RC4, system & port logging
Configuration via Web, Telnet/SSH, Windows Utility or console
Supports Dynamic DNS protocol for DSL connection to broadband Internet
Includes external 110V-230V power supply
Shipping to United States
Recorded Airmail: $24.75
Express: $31.00
Order Code
PS810
Price: $595.00
Discontinued
Pro Series Eight Port Serial Ethernet Converter
An eight port Serial terminal server or serial to Ethernet converter solution for serial to Ethernet conversion, including 100Base-T, RS232/422/485 and dynamic addressing, with configuration via web, Telnet or serial interface. Eight serial port Serial Terminal Server.
Compare Sena Serial Terminal Server Range
Features
Connects legacy serial devices to 10/100Base-T Ethernet network.
Supports surge protector for RS232/422/485 interface, up to 230Kbps speed.
Flexible TCP/UDP host mode support: Multiple host connection/data transfer.
Powerful security support, SSL (Secure Socket Layer), RC4 and 3DES.
An example program for Windows and Linux can be downloaded here.
Supports System logging.
Supports Dynamic DNS protocol for DSL connection to broadband Internet.
Configuration via Web, Telnet/SSH, Windows Utility or console.
Contents
PS810 Terminal Server Unit
Quick start guide
External 100-230V power supply
Serial data cable
CD-ROM
L Brackets for 19" rack mounting
Virtual COM Port Redirector
The product comes with a full version of Tactical Serial/IP Redirector software. This creates virtual COM ports so that your applications can immediately use a networked device/terminal server's serial ports as if they were local serial ports. This significantly reduces development time.
Details of Virtual COM Port Redirector

PS810 Terminal Server Details
Serial Interface

Serial speeds 75bps to 230kbps
DB9 connectors
Flow Control: Hardware, Software
Signals RS232: Rx, Tx, RTS, CTS, DSR, DTR, DCD, GND
RS422: Tx+, Tx-, Rx+, Rx-, RTS+, RTS-, CTS+, CTS-
RS485: 2/4-wire
Surge protectors

Network Interface and Protocols

10/100 Base-T Ethernet with RJ45 Ethernet connector
Supports static and dynamic IP address
Protocols: ARP, IP/ICMP, TCP, UDP, Telnet/SSH, DNS, Dynamic DNS, HTTP, SMTP, DHCP, SNMP v1 & v2, SSL
Ethernet modem with Full AT command set support

Security, logging and buffering

Security: SSH, SSL, IP address filtering, HTTPS
Versatile system logging support for all system events
Serial port data buffering

Management and Upgrades

Web
Console port
Telnet/SSH
HelloDevice Manager software
O/S support: Windows 98/ME/NT/2000/XP/Vista/Win 7
Firmware Upgrade using console, telnet/SSH or web

Power, LEDs and Environment

LEDs: Power, Link, Serial Rx/Tx on each port
Power: 100~240VAC, 50/60Hz, 0.24A
Operating temperature: 5?C to 50?C
Storage temperature: -40?C to 66?C

Physical

Dimensions: 438 x 120 x 45 (mm)
Dimensions: 17.2 x 4.7 x 1.8 ( in.)
Weight: 1600g

Certification and warrenty

Certification: FCC (A), CE, MIC
Warranty: 5-year limited warranty
Case Study
A case study about using the Pro Series serial device servers in a traffic management application can be
studied here
Ordering Information
| | | |
| --- | --- | --- |
| Ordering Information | Order Code: PS810 | Price: $595.00 |
| Shipping to United States: | Recorded airmail - $24.75 | Express price - $31.00 |