Selected Category and Product:

PC Interfaces » Terminal Servers » Multi Port Terminal Servers » PS210W
Secure Payment by

Dual Port Wireless 802.11 Wi-Fi Server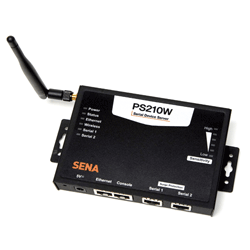 Connects 2 serial devices to 802.11b/g Wi-Fi or 10/100Base-T network.
Powerful security- 64/128-bit WEP, WPA/WPA2, SSL, RC4, system & port logging
Configuration via Web, Telnet/SSH, Windows Utility or console
Supports Dynamic DNS protocol for DSL connection to broadband Internet
Includes external 110V-230V power supply
Shipping to United States
Recorded Airmail: $14.75
Express: $23.00
Order Code
PS210W
Price: $349.00
Discontinued
Dual Port Wireless Device Server
The PS210W is a wireless device server that connects RS-232 serial devices to the industry standard 802.11b/g wireless network (WiFi).
These device servers incorporate advanced features such as WPA2 and 802.11i compliant wireless security, flexible operation mode, TCP/UDP multicasting, telnet COM port control protocol support (RFC2217 compliant), SSL encryption, and port event handling for wireless device networking.
---
PS210W Main Features
Connects legacy serial devices to 802.11b/g Wi-Fi or 10/100Base-T Ethernet network.
Supports surge protector for RS232 interface, up to 460Kbps speed.
Flexible TCP/UDP host mode support: Multiple host connection/data transfer.
Powerful security support, 64/128-bit WEP, WPA/WPA2/802.11i , SSL (Secure Socket Layer), RC4.
System logging & port logging.
Supports Dynamic DNS protocol for DSL connection to broadband Internet.
Configuration via Web, Telnet/SSH, Windows Utility or console.
Supports RFC 2217, Telnet COM Port Control Protocol.
---
Details
Serial Interface

Serial speeds 300bps to 460kbps
2 x RJ45 connector, with DB9M adapters included
Flow Control: Hardware, Software
Signals RS232: Rx, Tx, RTS, CTS, DSR, DTR, DCD, GND
Surge protector

Network Interface and Protocols

802.11b/g Wi-Fi
10/100 Base-T Ethernet with 2 RJ45 Ethernet connectors
Supports static and dynamic IP address
Protocols: ARP, IP/ICMP, TCP, UDP, Telnet/SSH, DNS, Dynamic DNS, HTTP, SMTP, DHCP, SNMP v1 & v2, SSL v3
Serial Port Access protocol : Telnet, TCP, UDP, SSL v3, RFC-2217
Ethernet modem with Full AT command set support

Security, logging and buffering

Security: SSH, SSL, IP address filtering, HTTPS
64/128-bit WEP, WPA/WPA2/802.11i
Versatile system logging support for all system events
Serial port data buffering

Management and Upgrades

Web
Console port
Telnet/SSH
HelloDevice Manager software
O/S support: Windows 98/ME/NT/2000/XP
Firmware Upgrade using console, telnet/SSH or web

Power, LEDs and Environment

LEDs: Power, Serial Rx/Tx 1 and 2, Status, Ethernet, Wireless
Power: 5VDC
Operating temperature: 0C to 50C
Storage temperature: -20C to 66C

Physical

Dimensions: 92 x 128 x 26 (mm)
Dimensions: 3.62 x 5.03 x 1.02 ( in.)
Weight: 800g

Certification and warrenty

Certification: FCC Part 15 Subpart B, Class A
EN61000-3-2, EN61000-3-3, EN60950-1, EN55022, EN55024
MIC
Warranty: 5-year limited warranty
---
Contents
PS210W Serial Device Server
Quick start guide
External 230V power supply
Serial data cable
Ethernet cross cable
Dipole antenna
RJ45 to DB9M adapter
CD-ROM
---
Related Products
Single port Wireless Device Server
---
Ordering Information
| | | |
| --- | --- | --- |
| Ordering Information | Order Code: PS210W | Price: $349.00 |
| Shipping to United States: | Recorded airmail - $14.75 | Express price - $23.00 |