Selected Category and Product:

Chips ICs and Modules » Wireless Modules » Bluetooth Wireless Modules » PARANI-ESD200
Secure Payment by

Parani Serial to Bluetooth Embedded Module - Class 2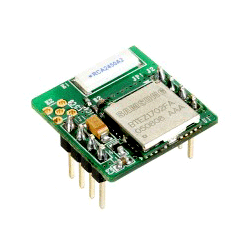 Embedded Bluetooth to Serial Module - class 2
Small module with eight pins (DIL format)
Includes on-board antenna
Range up to 30 metres (100 feet)
Support for Android smart phone connection
Shipping to United States
Recorded Airmail: $9.75
Express: $19.00
Order Code
PARANI-ESD200
Price: $55.00
Discontinued
Related Products
Embedded Bluetooth to Serial Module - class 2
A embedded class 2 Bluetooth to serial module that is simple to incorporate into your product. The module has eight pins (DIL format)and includes an on-board antenna. The Embedded Bluetooth to Serial Module is able to communicate with all Bluetooth devices, and provides a simple way of adding Bluetooth to your products.
Quantity discounts are available for the Embedded Bluetooth to Serial Module- contact sales.
---
Features - Embedded Bluetooth to Serial Module
Output Interface UART, Compliant Bluetooth Specification v1.1
Receiving Signal Range -84 to -20dBm
Compact size - Parani-ESD200: 18 x 20 x 11.7 (mm)
Provides transparent RS232 serial cable replacement.
Supports Bluetooth Serial Port Profile and Generic Access Profile.
Interoperability with PDA, laptops etc.
Working distance: Nom. 30 metres
Easy to use Windows configuration tool available.
Supports AT Modem Commands
No external drivers required.
---
Download User Manual for the Embedded Bluetooth to Serial Module here (4MB ZIP file)
---
Details - Embedded Bluetooth to Serial Module
UART Interface:
2.54mm Header 1x4x2
1200~230 Kbps
CTS/RTS flow control: Default
DTR/DSR not available
Bluetooth:
Bluetooth v1.1 Class 2
Level - 4 dBm
Protocols - RFCOMM, L2CAP, SDP,
Profiles - General Access Profile, Serial Port Profile
Power Requirements: 3V~3.3V, minimum 150mA nominal power consumption of 26mA@9600bps and 29mA@115Kbps speed
Approvals: Bluetooth 1.1, FCC, CE
---
Contents
ESD-01 Bluetooth Module with On-board Antenna
---
Starter Kit
A Starter Kit Embedded Bluetooth to Serial Module is available to get you going with these modules - see
Parani-Class 2 Embedded Bluetooth Starter Kit
---
Agency Approvals - FCC, CE 4MB
User Manual PDF 4MB

---
Ordering Information
| | | |
| --- | --- | --- |
| Ordering Information | Order Code: PARANI-ESD200 | Price: $55.00 |
| Shipping to United States: | Recorded airmail - $9.75 | Express price - $19.00 |