SSV DIL/NetPC module with AMD ELAN 586 SC520 and Linux
The DIL/NetPC ADNP/1520 was developed specifically for products that need to be connected to TCP/IP-based Bluetooth, 10/100 Mbps Ethernet or 802.11 WLAN networks with minimum development costs.
The ADNP/1520 is a ready-to-run embedded networking system. The use of the ADNP/1520 will allow you to realize a substantial time and costs savings over other chip-based approaches. Currently, there is no other TCP/IP-based Bluetooth, 10/100 Mbps Ethernet or 802.11 WLAN embedded networking solution with more development time savings on the market. There is also no faster Time-to-Market for your product with lower costs if Bluetooth, 10/100 Mbps Ethernet, 802.11 WLAN, full TCP/IP and a embedded Web server or other TCP/IP-based server software is required.
---
Block Diagram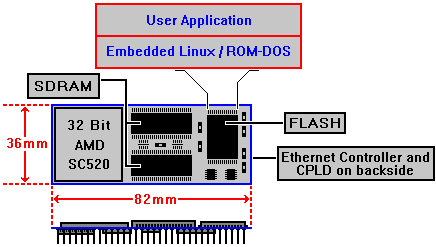 ---
Features
AMD 32-bit SC520 Low Power IA-32 586 CPU with 133 MHz Clock Speed
Hardware FPU (Floating Point Unit) ANSI/IEEE 754 compliant
64 MByte SDRAM Memory
16 MByte Boot Block FLASH Memory
10/100 Mbps Ethernet Interface
COM1/COM2 16550 Serial Ports with TTL Levels
High density PLD (CPLD) for VHDL programming
20-bit General Purpose Parallel I/O (VHDL-based, driven by CPLD)
Programmable Watchdog Timer
16-bit ISA Expansion Bus
7 Interrupt Inputs, 4 programmable Chip Select Outputs
IDE Interface
JTAG IEEE 1149.1 Test Interface
128-pin QIL-Connector, 2.54mm Centers
In-System Programmable over JTAG, serial and Ethernet Interface
3.3 Volt Low Power Design
Supply Voltage 3.3 VDC (+- 5%)
Supply Current 350 mA typ. (950 mA max.)
Size 82mm * 36mm
---
Details
The DIL/NetPC ADNP/1520-3V is build around the AMD 32-bit SC520 low power IA-32 586 CPU with 133 MHz clock speed. The AMD SC520 provides a 32-bit AM586 CPU with hardware FPU (Floating Point Unit) support and a complete set of PC/AT-compatible peripherals, along with the power management features required for low-power operation and a ISA bus interface for external ISA peripherals. The SC520 also provides all of the support functions found in the original IBM PC/AT. The SC520 microcontroller use the industry-standard 486/586 instruction set. All software and embedded operating systems written for the IA-32 (x86) architecture family is compatible with the SC520 and the ADNP/1520-3V.
Block Diagram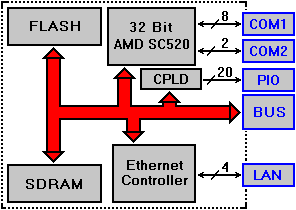 The external main components around the AMD Elan SC520 32-bit microcontroller on the ADNP/1520-3V are one FLASH chip with 16 MBytes for the operating system and OEM applications, two 32 MByte SDRAM chips (total DRAM size is 64 MByte) and one 10/100 Mbps Ethernet LAN controller with 10BASE-T/100BASE-TX interface. The SDRAM access and the refresh operation is driven by the SC520 integrated SDRAM controller. The SC520 interface to the 10/100 Mbps Ethernet controller is based on the SC520 ISA bus interface. The 10/100 Mbps Ethernet controller is a external ISA peripheral in the SC520 ISA address space. The ADNP/1520-3V also offers a full featured IDE interface for CompactFlash devices or other standard IDE devices. The chip selects for this interface are driven by the CPLD.
The ADNP/1520-3V 10/100 Mbps Ethernet controller is a SMSC LAN91C111 single chip MAC+PHY. This highly-integrated Ethernet LAN controller includes 8 KByte internal memory for receive and transmit FIFO buffers, a IEEE 802.3/802.3u Ethernet MAC engine, and internal 10BASE-T and 100BASE-TX transmit and receive filters. The SMSC LAN91C111 supports full-duplex switched Ethernet operation and auto negotiation for 10 and 100 Mbps. For the ADNP/1520 LAN integration, the PHY interface needs only a external low-cost isolation transformer.
The mechanical interface between the DIL/NetPC and existing devices and equipment is a 128-pin QIL connector with 2.54mm centers. This allows the direct integration to a 128-pin QIL socket. The inner 64 pins are compatible to the DIL/NetPC DNP/1520. The outer 64 pins offers a 16-bit ISA expansion bus.
---
Starter Kit
An ADNP-1520 starter kit
with an evaluation board, including a module, software, cables etc is available.
---
See
SSV DIL/NetPC Embedded Modules with Linux
Overview