PE Micro ISP software for ARM devices
PEmicro's PROG for ARM® Cortex Processors flash programmer software allows you to program/reprogram external flash devices from many ARM device manufacturers in-circuit, via one of PEmicro's compatible hardware debug interfaces. The programmer talks to the processor's Background Debug Mode through a compatible hardware interface (sold separately), which connects the parallel port or USB port of a PC to a mini-10 or mini-20 pin JTAG connector on the target system.
PROG for ARM Cortex processors also includes the command-line version of the programmer software CPROGACMP. Together they are perfect for development, production line programming, or field firmware upgrades.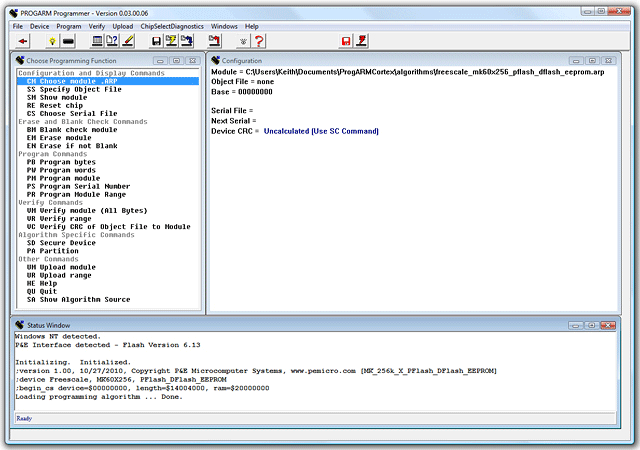 Supported Devices
PROG for ARM Cortex processors supports programming of ARM devices from many manufacturers. Device support is shown on Multilink and Cyclone pages. The software comes with PEmicro's entire library of compatible programming algorithms, and we support programming of both internal and external (SPI) flash.
ISP Resources
PEmicro has a resource page describing different methodologies for programming target flash in both development and production environments: Flash Programming Resource Page in new window.
Programmer features include:
Program
Verify
Blank check
Upload
Display
Erase
Prog programmers also support serialization