Selected Category and Product:


Debugging-Emulation » Emulators » Multilink Debug Probes » PE Micro ISP Software » PROG-HL-12Z
Secure Payment by

68HC(S)12(X) Software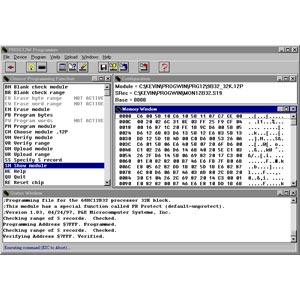 Supports

68HC(S)12(X) processor, internal and external flash

NXP merged with Freescale and took over Motorola

Free command line version included

Works with Multilink and Multilink FX

Free with Cyclone programmers (not command line)
Shipping to United States
Recorded Airmail: $0.00
Fedex Express: $0.00
Order Code
PROG-HL-12Z
Price: $199.00
In Stock
Related Products
68HC(S)12(X) Flash/EEPROM Programmer Software
PEmicro's PROG12Z Flash Programmer software allows you to program/reprogram both internal and external HC12 or MC9(S)12(X) flash devices in-circuit. The programmer software communicates with the processor's Background Debug Mode module via any of PEmicro's compatible Multilink debug probes or Cyclone programmers (available separately). These connect the PC to a 6-pin BDM connector on the target system.
PROG12Z also includes the command-line version of the programmer software - CPROG12Z. Together they are perfect for development, production line programming, or field firmware upgrades. Packages that include both software and a hardware interface are available here.
Supported Devices
The programmer comes with PEmicro's entire library of 68HC12 programming algorithms, see full list in new window:.
Device Support List
Features
Programmer features include:
Program
Verify
Blank check
Upload
Display
Erase
Serialization: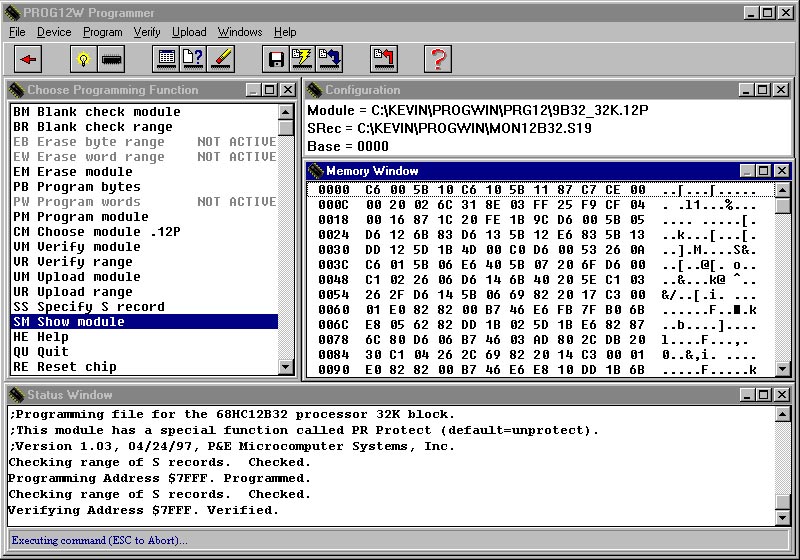 Documentation
This opens in a new window.
Ordering Information
| | | |
| --- | --- | --- |
| Ordering Information | Order Code: PROG-HL-12Z | Price: $199.00 |
| Shipping to United States: | Recorded airmail - $0.00 | Fedex Express - $0.00 |