Selected Category and Product:


Training and Books » Books » MPIC-B1
Secure Payment by

Programming Microchip PIC Microcontrollers Book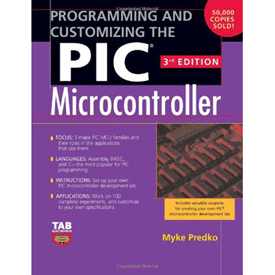 Shipping to United States
Recorded Airmail: $15.00
Fedex Express: $25.00
Order Code
MPIC-B1
Price: $73.94
Out of Stock
Related Products
Programming and Customizing PIC Micros
This comprehensive book by Myke Predko is a complete PIC microcontroller reference, for beginers and experienced users alike.
Includes CD with PIC sample programs, reference material and Microchip MPLAB software
---
This book covers all PIC microcontroller families from low end 12C family right up to 17C/18C devices. As well as basic material about PIC microcontrollers, the book covers PIC microcontroller applications, debugging and projects.
Main Topics
Create your own PIC microcontroller development lab
PIC Microcontroller basics
PIC microcontroller interfacing capabilities
Software development, and applications
Useful tables and data
Basic electronics
Digital electronics
BASIC reference
C reference
16-bit numbers
Ordering Information
| | | |
| --- | --- | --- |
| Ordering Information | Order Code: MPIC-B1 | Price: $73.94 |
| Shipping to United States: | Recorded airmail - $15.00 | Fedex Express - $25.00 |