Selected Category and Product:

Programmers-Burners » Hand Held Programmers » Handheld AVR Programmers » AVR-HH-USB
Secure Payment by

USB Dongle2 for AVR Handheld Programmer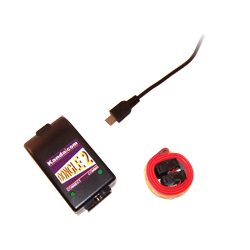 USB Dongle
Supports USB Keyfobs
Supports Handheld Programmers
Does not support old LPT keyfobs
Will power Keyfob but not Handheld
Shipping to United States
Recorded Airmail: $9.75
Express: $19.00
Order Code
AVR-HH-USB
Price: $30.00
In Stock
Related Products
USB Interface for AVR Handheld Programmer

New USB PC interface for AVR microcontroller Handheld Programmer and AVR Keyfob programmers(Dongle2). This USB interface or adapter is a direct replacement for the existing Parallel port PC interface used with Handheld Programmers.

Users of parallel port AVR hand held programmers can use this PC interface with their existing programmers provided they are no older than July 2005 - serial number 082860 on.

USB AVR keyfob is different from the parallel port version (KF0020M) and so this interface will NOT work with old LPT keyfobs. It will power AVR USB keyfobs so battery is no longer required.

This interface is NOT suitable for parallel port Keyfob Programmers.
---
Windows Support
Windows 2000, XP, Vista, Windows7/8/10 - 32 and 64-bit versions




Ordering Information
| | | |
| --- | --- | --- |
| Ordering Information | Order Code: AVR-HH-USB | Price: $30.00 |
| Shipping to United States: | Recorded airmail - $9.75 | Express price - $19.00 |